Share:
Crypto Fear and Greed Index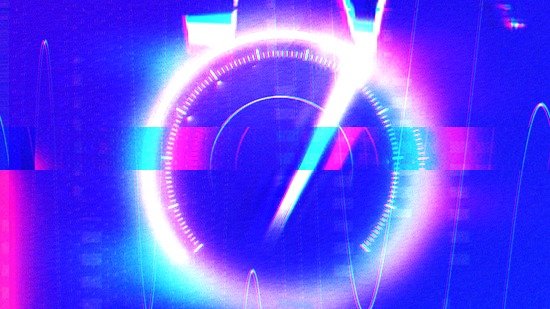 The crypto fear and greed index is an indicative index that tracks and scores the sentiment of the crypto market. A lower score implies undervaluation and opens opportunities for buying. A higher score means overvaluation and opens opportunities for selling.
The best part about this index is that it accurately describes the sentiment of the market using various different sources of data. It can thus be a part of a crypto trader's analysis, but it should only be used as an indicator alongside other indicators, and traders are advised to not rely their understanding of the market solely on this index. In this article, we will explore what the index is, how it works, and how useful it is.
What is the crypto fear and greed index?
It is an index that analyzes data from various different sources and then, basis of that, provides information about the crypto market sentiment. It is based on CNNMoney's Fear & Greed Index, which is a similar indicator for tracking the sentiment of traders in the traditional stock market.
A crucial point to note here is that the crypto fear and greed index captures the movement of bitcoin. Because bitcoin is the biggest cryptocurrency by market cap (and also the most popular one), its price movement is considered to impact other cryptocurrencies as well. As with any such index, a basket of different factors is considered in order to understand the sentiment of the market.
Volatility: The current volatility of bitcoin is measured against its average values over the last one month and three months. If the price is too volatile, then the market sentiment is that of fear.
Market Momentum: The current market momentum is also measured against the one/three-month values. High buying volumes indicate that the market sentiment is that of greed.
Social Media: The hashtags used for bitcoin on Twitter are analyzed for engagement/interaction that they receive in specified time frames. This helps in understanding how people are reacting to the market on social media. Obviously, the more people talk about bitcoin on social media, it is indicative of bullish behavior.
Dominance and Trends: Because bitcoin is considered to be much safer than other altcoins, it is said that the higher the investment in bitcoin, people's interest in altcoins decreases. Google Trends for bitcoin-related queries are also analyzed for the same.
On a whole, these factors help decide the sentiment of the market. As you can probably guess, these factors individually can tell a lot about the market, and in combination, they help with useful insights into the market. But, as we mentioned earlier, this index is simply used as an indicator of how the market is going (especially alongside other analyses such as fundamental and technical).
As of writing, the crypto fear and greed index shows greed.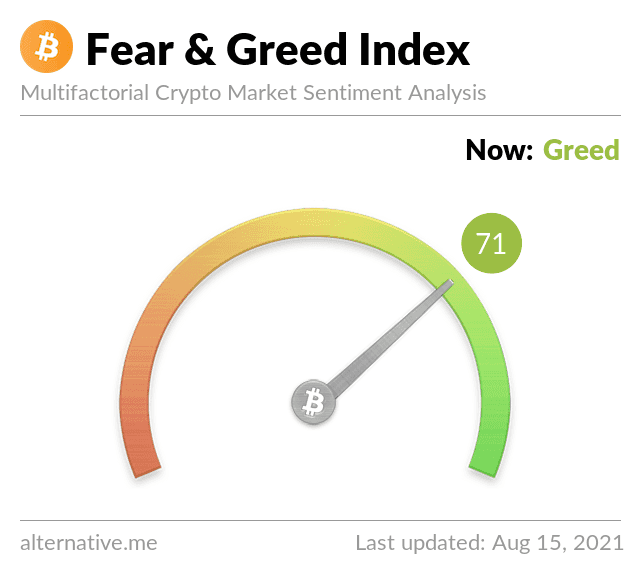 The varying values on the scale indicate something along these lines:
0-24: Extreme fear
25-49: Fear
50-74: Greed
75-100: Extreme greed
Can this index be a part of my fundamental analysis?
It could potentially help amplify your understanding of the market. However, using it as the only indicator is not advised. For fundamental analysis, users generally rely on the whitepaper of the coin, along with other technical info of the project.
A crypto market is often comprised of bearish and bullish runs. In any specified time period, this can thus comprise of various bear and bull runs, which would further indicate different periods of greed and fear. While this works in short-term instances where traders are looking for another metric to get an "overall" sense of the market, it hasn't been provably successful for long-term investors.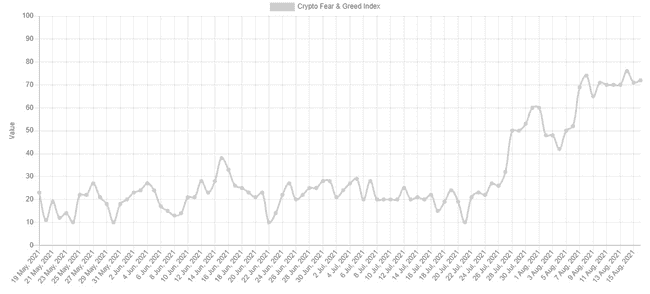 After the sub-$30K fall just a few weeks ago, the cryptocurrency bounced back recently and is now showing signs of extreme greed again - something that it had not done for quite a while.
Are there other indexes similar to this one?
Yes, on the Alternative.me portal, you can find two other options for analyzing information related to cryptocurrency that are Coin Overview and Trends Analysis. While the former is just a list of all the major cryptocurrencies and how they are performing, the Trends Analysis provides insights into the past trends of Bitcoin and predicts the possible outcomes. In some ways, again, this can be a helpful tool for beginners who haven't done complete fundamental analysis to understand the factors that influence a coin's price movement.
However, it is at the end of the day, a mere prediction that can also be wrong. Therefore, all traders who are starting out with cryptocurrency generally take a fundamental-level approach towards bitcoin and most other cryptocurrencies. They first like to analyze the basics of the coin, how it works, what its applications are, and then trace its price movements over specific time periods. The fear and greed index can then be considered to see how it corresponded to historical price movements. If they find that it was right most of the time previously, then it has chances of being right even presently.
Final Thoughts
Indices like these are super helpful when finding other information is hard. There is no doubt that there is a certain level of truth in the fact that most cryptocurrencies are influenced by how people are reacting to them on social media. Take DOGE, for instance. It is a famous meme-coin that has come under scrutiny for simply being a coin based on a meme. Whenever huge investors start talking about it on Twitter, its price goes up. And when it is pushed to the sidelines, it falls.
Thus, social media and the community's reaction to cryptocurrencies are always key factors that influence the price movement. So, the index is helpful in that case. But, again, as a standalone metric, not so much. Users can, on the other hand, look at Token Terminal and Glassnode.
Author:Martin
Published:August 17, 2021